Exploring Google Scholar: Features and Metrics for Researchers
About Google Scholar
Google Scholar provides a simple way to broadly search for scholarly literature. From one place, you can search across many disciplines and sources: articles, theses, books, abstracts and court opinions, from academic publishers, professional societies, online repositories, universities and other web sites.
Google Scholar is good for:
Helping a beginning researcher identify journal titles and authors connected with subjects of interest

Finding "grey literature" like conference proceedings. It includes many articles that wouldn't get included in other indexing services

Locating obscure references that are proving difficult to find in conventional databases

Accessing books and articles in a single search

Locating more information on partial citations
Sort/search by disciplinary field

Browse by title

Limit search results

Search the deep web
You may get a long list of results, but you will only have access to the text of articles that the GUST Library has paid subscriptions for, or that are freely available

Not everything in Google Scholar is scholarly. Google Scholar searches academic websites (.edu) as well as journals and publisher websites. Search results can include PowerPoints, news announcements or unpublished materials as well as articles and books

It is difficult to determine with 100% accuracy all that Google Scholar searches. Therefore, we do not know the breadth of what Google Scholar is indexing and consequently cannot judge the comprehensiveness or completeness of the results of a literature search

We cannot tell how frequently items in Google Scholar are updated

Searching in Google Scholar is imprecise when compared with subject-specific databases
Author Metrics in Google Scholar
Google Scholar allows you to set up a profile which contains your publications. The profile also provides you with various author metrics, such as h-index. In order to set up your profile, you need to have a Google account.
Go to scholar.google.com and click the "My Citations" link at the top of the page

Log in with an existing Google account, or create a new one. Complete the form with your details, and click the 'Next step' button

Review the list of publications, and use the "Add" button to add them to your profile. When you've added them all, click the "Next step" button

Choose how you would like to deal with changes to publication and citation data, and click the "Go to my profile" button to view your profile

If there are articles you've written which don't appear in your list of publications on your profile, you can add them manually by selecting "Add" from the "Actions" drop-down menu

To make your profile public, click on either the "Make my profile public" link in the yellow box at the top of the page, or the "edit" link next to "My profile is private"
Article Metrics
You can perform a cited reference search in Google Scholar to find out how many articles cite a particular article. If you search for the article in Google Scholar, the "Cited by" count will be displayed under the search result.
Journal Metrics in Google Scholar
Google Scholar also provides metrics for quality of journal articles.
It is possible to browse publications by broad areas of research and by narrower subcategories by selecting subjects and subcateogries from the left menu.
Measurements used include the five-year h-index and h-median metrics. To see which articles in a publication were cited the most and who cited them, click on its h-index number to view the articles as well as the citations underlying the metrics.
Scholar Metrics are currently based on the index as it was in June 2014.
How to Find Journal Metrics
To find journal metrics on Google Scholar, click on the Metrics link from the top menu: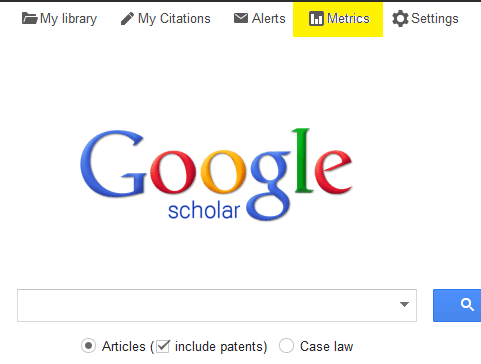 Google Scholar "My Citations" Tutorial
Learn how to effectively utilize Google Scholar's My Citations feature through this tutorial. From setting up your profile, adding citations, and managing entries, to optimizing visibility by making your profile public, this tutorial offers a comprehensive guide for authors seeking to track their citations and enhance their scholarly presence.