SDG3: GOOD HEALTH AND WELLBEING
Sustainable Development Goal 3 (SDG 3), which focuses on ensuring good health and wellbeing for all, is a universal agenda aimed at addressing various health-related challenges globally. In Kuwait, as in many other countries, this goal is of paramount importance, and institutions like the Gulf University for Science and Technology (GUST) play a significant role in its realization within the university and the wider community.
Inside the University - GUST's Initiatives for Good Health and Wellbeing:
Health and Wellness Programs: GUST recognizes the importance of physical and mental health for its students and staff. The university offers various health and wellness programs, including fitness classes, mental health workshops, and counseling services. These initiatives aim to create a healthy and supportive environment for the university community.
Nutrition Awareness: GUST promotes good health by emphasizing the importance of nutrition. The university's dining facilities offer balanced meal options, and nutrition workshops educate students about making healthy dietary choices.
Healthcare Facilities: GUST provides access to healthcare services on campus, ensuring that students and employees have easy access to medical care when needed.
Research and Education: GUST encourages research and education in the field of healthcare. The university offers programs related to health sciences and collaborates with healthcare institutions to enhance the quality of healthcare services in Kuwait.
Beyond the University - GUST's Contribution to the Wider Community:
Community Outreach: GUST believes in giving back to the community. The university engages in various outreach programs, including health awareness campaigns, free medical check-up events, and health education workshops in collaboration with local organizations.
Research and Policy Advocacy: GUST contributes to the broader healthcare landscape by conducting research on health-related issues in Kuwait and the Gulf region. The university's experts often engage in policy advocacy to promote evidence-based healthcare policies.
Educational Partnerships: GUST collaborates with local schools and educational institutions to promote health and wellbeing among students of all ages. This partnership extends the reach of health education beyond the university campus.
SDG Awareness: GUST actively promotes awareness of the Sustainable Development Goals, including SDG 3, within Kuwait and the Gulf region. The university's events and initiatives often focus on these global goals to inspire positive action in the community.
GUST, as a prominent educational institution in Kuwait, is deeply committed to the principles of SDG 3: Good Health and Wellbeing. The university's efforts inside the campus and in the wider community underscore its dedication to promoting health, wellbeing, and a better quality of life for all, aligning with Kuwait's commitment to achieving the Sustainable Development Goals. Through education, research, and community engagement, GUST plays a vital role in advancing the cause of good health and wellbeing in Kuwait and the Gulf region.
GUST Supports Ministry of Health to Facilitate Quarantine Procedures
In solidarity with the Ministry of Health and in collaboration with the Kuwait Red Crescent Society, Ministry of Interior, and Ministry of Finance, GUST has provided its support and facilities to welcome community members to complete their quarantine procedures.
The initiative welcomed over 290 individuals who completed their 14-day quarantine at Al-Khiran on its campus to facilitate their final steps in the check-out process.
The launch of the initiative was attended by GUST BOT Chairman, Mr. Mohammad Al-Bahar, GUST President, Professor Walid Bouhamra, Maha Al-Barjas, Secretary General of Kuwait Red Crescent Society, and Brigadier Khaled Al-Kandari, Security Director of Hawalli, GUST Vice President for Professional Development and Community Services, Dr. Ahmad Al-Darbas, and GUST HR Director, Nawaf Al-Khalaf.
GUST has provided its campus facilities for as long as needed, and will stand with Kuwait and support the impressive MOH efforts to help flatten the curve and beat this pandemic.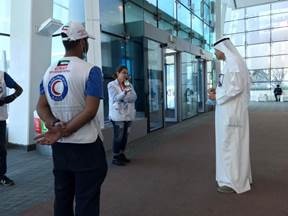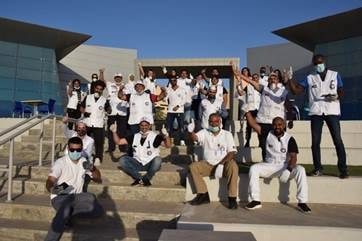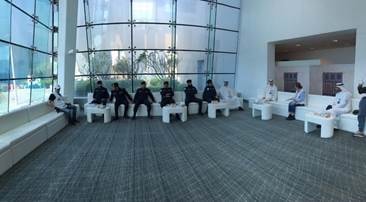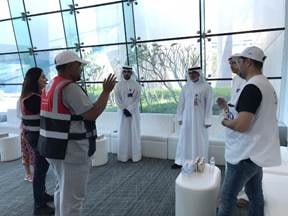 As part of the Mental boost campaign, GUST organized a lecture titled 'Know your Psychiatrist', which presented by Dr. Ibraheem Al Mazeedi, a resident in the Kuwait Board of Psychiatry.
Al Mazeedi shed the light on the importance of knowing the psychiatrists and what takes place during a session. The lecture also discussed the rights of the patient and the importance of the mental health care act.
29 April 2021 to 22 July 2021
GUSteps Competition Kicks-offs
Kuwait City, XX April 2021: GUST's Athletics Department launched the GUSteps challenge, a walking competition aimed at encouraging everyone to exercise during the holy month of Ramadan. The competition also aims to promote an overall healthy lifestyle in the midst of the COVID-19 pandemic and government curfew restrictions.
The competition is tracked through the use of the "Movespring" app, where users interested in participating download the application and enter their credentials including GUST as their affiliate institution. From there, users link their own personal fitness trackers to the app so that each individuals steps date is collected and aggregated to show the daily and weekly results of all participants.
To further encourage the community in competing the Athletics Department has set a target goal for participants to hit weekly, starting at 60 thousand steps for the first week which a gradual increase of 30 thousand steps each week, ending at 150 thousand steps on the final week of Ramadan. Each week the participants who have reached the weekly qualify to enter a raffle to win an iPhone. With a major prize allocated to this who complete 420 thousand steps by entering a raffle for an iPad.
Head of Athletics, Ms. Bibi Abdulkareem said "I am proud to be a part of this project and proud to see the amount of GUST students, faculty, staff, and even alumni, sign up and participate. This competition is critical is promoting a healthy lifestyle but also in encouraging others to maintain their physical and mental wellbeing. With the use of technology, we have been able to do this all from a distance without having any physical sign ups. I am grateful for everyone who has had a helping hand in making this competition a success."
The challenge is a testament to the Athletics Department goal to further engage the community through events such as GUSteps and the "Live Workout Series" on Zoom, with Mr. Ahmad Al-Shammari, which also is ongoing during this holy month.
To participate and join the GUSteps challenge, download the Movespring application on your smartphone, input your credentials and required data to register, then use the code "GUSteps".
Smoking Violation Announcement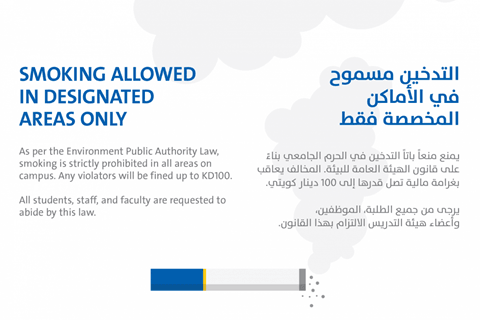 GUST Hosts Mental Health Lecture Series on Dealing with ADHD Obstacles
GUST, in collaboration with AFAQ Educational Co., and under the sponsorship of the Public Authority of the Disabled, hosted a lecture on campus last week, focusing on solving the different obstacles that come with ADHD. The lecture was led by Dr. Suad Al-Thuwaikh, CEO of That Center for Social and Education Consultations, and was mainly geared towards parents and educators with children dealing from learning mental or learning disabilities. The lecture was attended by university management, as well as management representation from AFAQ Educational Co., Public Authority of the Disabled, Ministry of Education, educators and parents.
With her extensive experience in the field, Dr. Al-Thuwaikh was able to take the audience through all the details related to ADHD, covering a range of topics related to the illness, from the different symptoms to look out for, to different strategies to use at home and in the classroom to develop learning abilities and get the most out of their educational journey. Al-Thuwaikh designs all her programs according to specific proven methodologies.
This is the first lecture that is being hosted, and will be part of a six-lecture series on mental health, that is due to take place within the upcoming year. The goal of the lecture series is to not only raise awareness on mental health issues, but to provide a service that will make a positive different in the lives of the participants and their families, as well as increase the efficiency of educators, and achieve the productivity levels we all strive for in the community.
The collaboration on this series comes in an effort from the university to develop and strengthen its impact within the local community and put an effort for its development, especially in the educational sphere.
An issue has developed concerning tobacco use (smoking) on campus that affects the health of all GUST constituents. Smoking in the building is hazardous to the health of the smoker but the second hand smoke is also hazardous to non-smokers. Second hand smoke exists anytime someone smokes within a confined space or near areas where non-smokers must travel through or go near.
Therefore, to protect the health of all students, staff and faculty effective Sunday, November 9, 2014 the GUST building will become a smoke free building. You may smoke on campus but you must be at least 10 meters from any entrance to the building. This means no smoking rooms will be available and there will be no smoking on the bridges that connect the building even though they have outside exposure as they are considered part of the building. This also means no smoking by students, faculty or staff in the restrooms.
First violations of this policy by students will result in a "final" warning and a second violation will result in expulsion from the University.
Staff will not be given a warning, the first violation will result in dismissal.
GUST hosts World Mental Health Day
GUST hosted World Mental Health Day; a lecture aimed to raise public awareness about mental health issues, and inform and educate both staff and students on the subject.
Dr. Robert Cook, VP of Academic Affairs, Dr. Sabah Qaddoomi, VP of Academic Services and numerous staff members and students took their seats and excitedly waited for the lecture to start, interested in what the speaker had to offer. The event was to promote open discussions of mental disorders, preventions, and discuss treatment services.
Guest speaker Dr. Mariam Al Awadhi, Assistant Professor at the Department of Psychiatry in the Faculty of Medicine at Kuwait University (KU) discussed the importance of understanding and differentiating between the different types of mental diseases such as personality disorders, eating disorders, psychotic disorders, and anxiety disorders. Dr. Al Awadhi also discussed how the discrimination of people with mental disorders is a human rights issue and that they should be treated with humanity, dignity, and respect. She then brought up the importance of educating ones-self and fellow peers about the subject and possibly volunteering at a mental health organization to know how to interact and properly communicate with those suffering with mental health disorders.
Students later were invited to an open discussion where they each were able to ask questions regarding the subject and share stories and their experiences dealing with people who have mental health disorders. The event was overall very educational and clarified the importance of one's mental health to their wellbeing.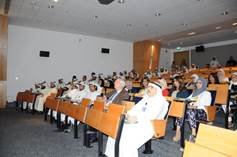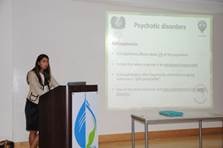 GUST hosts SCORA AIDS Awareness Campaign
Standing Committee on Research Exchange (SCORA) held its first event held at GUST which was the AIDS awareness Campaign, with better results than expected. SCORA is a new committee in Kuwait's Medical Students' Association (KuMSA) that took the initiative to break the silence and start a campaign to raise awareness about AIDS in order to educate the youth on the facts and myths related to this disease.
The campaign involved an open day at GUST with booths: informative booth, dessert booth, and the popular 'Supporting the Patients' booth where students, staff and faculty wrote anonymous letters of support to those struggling with the disease (medically and socially). SCORA will ensure that the patients receive the letters.
The campaign also involved mini lectures by honorable guest speakers, such as the Head of the AIDS Statistics & Information Department at the Ministry of Health, Dr. Hend Al-Shomar and the National Officer of Reproductive Health, Hawra'a Mouhsen.
This is hopefully the first of many events yet to come until the society is fully educated about the disease, and until those struggling from it are freed from the social stigma and discrimination that they've been burdened with. Only then can we reduce the true effects of AIDS to zero.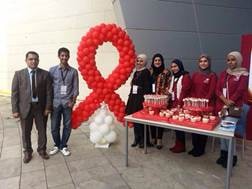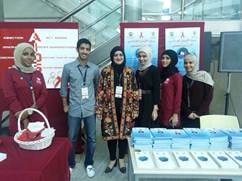 Sports Club organizes Green Light Carnival
This year marked a first in GUST carnival history. The Sports Club hosted a two-day "Green Light Carnival" that focused on raising health awareness as well as encouraging physical activity. The Sports Club organized an array of activities that got students and faculty alike interested in the importance of good health.
The carnival hosted interactive day activities, a seminar and a nightly show that got spectators blood pumping. The purpose of the carnival was to illustrate to the students and faculty that taking care of our health is very important. It was not limited to just the concepts of weight loss and fitness but to adopt an overall healthy lifestyle. The carnival hosted daily activities began with offering check-ups, done by the Kuwait Heart Foundation. A bus was set up by the Roman theater, where students and faculty went to check their height, weight, blood pressure and blood sugar. The doctors gave students and faculty the information they need about their health, and tips to help improve anything that needed to get better.
Apart from the checkups offered, the Sports Club hosted a health and fitness seminar led by Dr. Ahmed Leri and Mr. Ahmed Al Majed. The seminar titled "Better Health With Every Step" talked about the importance of balancing a healthy lifestyle according to the rigor of activity that a person does. It was a seminar that focused on the concept of balancing proper eating habits (diet) and exercise (fitness) in a way that is beneficial and not harmful to ones body. Dr. Ahmed Leri and Mr. Ahmed Al Majed then opened up the floor for questions from the audience.
Another activity that took place was that of the organized Zumba classes for girls. Zumba instructor, Rana Y. Al-Omani was invited to offer Zumba classes to students to give students a taste of what it is. Zumba is a form of aerobic exercise that combines Latin and international music as well as Latin and international dance moves with aerobics. This work out offers a full cardio work out that is fun and challenging to do.
Finally, the carnival offered students and faculty the chance to give back to those whose health is in need of help. The Kuwait Blood Bank was at GUST taking blood donations from all students who were willing and able to donate. Many students came enthusiastic to give back and was a wonderful success.