GUST offers an MBA degree designed to meet your professional needs and goals. The MBA program at GUST is designed for risk-taking, challenging, and intelligently experienced people. People who seek to develop and grow in their career and bring out the confident leader within them. The MBA program has been developed to ensure that it meets the highest international standards with a local market flavor. The major learning outcomes of our MBA emphasize leadership, ethical standards, teamwork, and critical thinking. The curriculum will teach you how to use analytical outlines and tackle complex problems, which will help you progress in your career to earn your next promotion. Throughout the program's duration, you will experience being treated professionally with interest and responsiveness- by an approachable and collaborative faculty focused solely on developing your business and leadership skills. Our MBA program, which holds international accreditation, is specifically designed to meet the decision maker's strategic needs. It is worth mentioning that our program is the only MBA in Kuwait that provides twelve different concentration options for the students: Accounting, Auditing, Economics, Finance, Corporate Finance, Banking, Financial Technology (FinTech), Management, Entrepreneurship, Supply Chain Analytics, Human Resources and Marketing.
Professor Bassam Alameddine
Our new Master of Business Administration (MBA) program students, I am very pleased to welcome you to our campus, your second home. You are about to embark on, what I hope will be, an extraordinary journey made up of valuable sets of experiences here at GUST.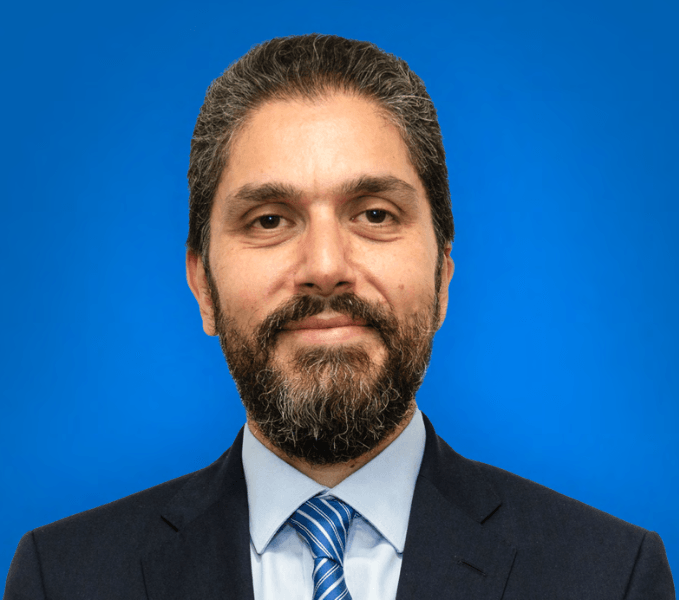 Today's world needs leaders who are highly innovative business professionals with nimble minds, strong analytical skills, and pulsing with the ability to take proactive decisions to overcome complex management problems. This is why GUST ensures to foster a high-impact learning environment that reflects its belief by applying the concepts practically, and this is the key to practical knowledge. We will support your decision in pursuing your MBA degree. Our aim here at GUST is to provide you with powerful and transformational experience to be built around your strengths and aspirations. This program is developed to help advancing your personal growth, and leveraging your professional performance to confidently reach your goals.
GUST's MBA program is designed with using the "know-how" adopted from the latest schools of thought on business management. It is composed of team projects, case studies, visiting lecturers, special speakers, simulations, and the opportunity to attend a short course at one of our partner universities abroad. Your instructors will work to instill in you the core qualities required in the business world by helping you developing and evolving as leaders, learning to derive the advantages of working as a team, and cultivating your strategic thinking skills. The program will also emphasize and promote the importance of working within ethical framework in order to shape your capabilities and mold you into successful, ambitious leaders with creative business ideas; leaders who are capable of making rational decisions based on complex yet, reliable data.
Dr. Kamaludin Dingle
Acting Director of Graduate Studies and Research Office
In the GUST MBA program, emerging business leaders can build on their professional experience, advance their careers and further leverage their successful contribution to their firms both qualitatively and quantitatively. Program participants gain the knowledge and skills necessary to meet the challenges of greater work responsibilities.
The mission of the program is to nurture competent entrepreneurial managers, responsible business professionals, skilled leaders, team players and ethical decision makers. Being a leading private institution committed to the utilization of state-of-the- art technology, GUST realizes the importance of the graduate studies and is dedicating itself to offering a quality MBA Program that is flexible, innovative and allows a degree of specialization that enables students to go to further graduate studies in top universities.
We are committed to offering the students more choices, key connections, and a future they define. Whatever it takes to keep them current and on top of the business world, we are committed to providing.
Individual effort, teamwork, formal presentations, exposure to guest lecturers and networking are hallmarks of the GUST MBA. GUST's committed faculty, world class academic infrastructure, and national and international, industrial and academic links provide a rare opportunity and atmosphere for learning.
It is our pleasure to help our students' transition into graduate studies and make it as comfortable and enjoyable as possible, regardless of their background. The Graduate Studies and Research Office (GSR) is available to discuss career objectives and options for you.
Train future leaders through integrated and researched methods of teaching.

Provide a pioneering and knowledgeable environment.

Focus on leadership and management in a high-tech, international marketplace.

Enable students to reach their optimal academic and professional potential.
Begin your MBA in September or January
Earn your MBA in as few as 24 months
Just one course per week 5:00-8:00 p.m.
Accreditations
GUST's College of Business Administration joined less than five percent of the world's business programs to achieve the AACSB-International accreditation in 2014. GUST is the only premier private university in Kuwait to receive this esteemed recognition by AACSB, an institution that has been devoted to the advancement of management education for over 95 years. AACSB represents the highest achievement for all business schools.