The Office of Student Life (OSL)
The Gulf University of Science and Technology (GUST) established the American-style accredited degree granting university by developing and maintaining a "students comes first" attitude and by providing a positive and creative work environment that respects diversity, new ideas and hard work; GUST has a complete understanding that education is accomplished through learning both in and out of the classroom. As a result, GUST seeks to graduate people of competence and character who can lead the way for meaningful change in our world. Together with the students, faculty and staff, the Office of Student Life (OSL) strives to unite learning and living to adapt with the rapid changes of our 21st century environment.
The Office of Student Life (OSL) seeks to create a dynamic and healthy learning environment to fulfill the GUST experience. OSL optimizes students' social brilliance skills and talents, professional experiences and leaning beyond the academic settings. We aim to build GUSTs youth for the future.
The Office of Student Life seeks to create a dynamic environment to get the GUST experience. It provides students' centered services, programs and experiences through exposing the students to out of the classroom learning opportunities, engaging them in different events and activities internally and externally, locally and internationally. The OSL collaborates with the students to foster a diverse and energetic campus life in order to support the educational and developmental goals, enhance the skills, interests, professional experiences, leadership skills, and learning beyond the academic settings. The OSL is committed to improve the student's social intelligence and steers them towards a promising future and a successful career. Students are valuable assets, leaders of the future, citizens of the community and the tools to a brighter future.
The Office of International Programs (OIP) strives to promote and develop a wide range of educational opportunities for both students and faculty. The OIP works closely with top-ranked academic institutions and organizations around the world to establish formal partnerships and create opportunities for strategic cooperation. These arrangements assist GUST's community as it continues to integrate into growing networks of global knowledge and continuous learning.
The OIP's mission is to promote and develop a wide range of international and educational opportunities by establishing strategic partnerships with top-ranked academic institutions and organizations; enabling GUST students and faculty to integrate into the emerging global knowledge and learning network.
GUST students can choose from numerous study abroad programs to gain international and intercultural experiences, and enrich their understanding of different cultures and nations.
Moreover, GUST strategic partnerships support collaborative faculty research projects that foster engagement between GUST faculty and their peers at innovative, international academic institutions.
GUST is proud to maintain bilateral agreements with prestigious universities around the world.
GUST as a premier university is committed to enhancing engagement with international educational institutions in the areas of education and research. GUST facilitates an array of international programs, including study abroad opportunities, faculty fellowships, and partnerships with universities around the world.
GUST Insurance Track Gains First CII Accreditation in Kuwait
GUST's Insurance track has been accredited by the Chartered Insurance Institute (CII), making GUST the first university in Kuwait to be accredited by CII. Established in 1912, the CII is a professional body dedicated to building public trust in the insurance and financial planning profession by 'Securing and justifying the confidence of the public' in its members and the insurance sector as a whole, through setting standards of integrity, technical competence, and business capability.
Dr. Khaled Elmawazini, Head of Economics and Finance Department said, "GUST is the first Kuwaiti university accredited by CII, one of the most prestigious, globally recognized standard designation in the field of Insurance, founded in 1917. This accreditation allows our students to get exemptions for relevant exams and qualifications that can help them achieve CII qualifications faster than other students in Kuwait and Middle East."
Prof. Jean-Paul Arnaout, Dean of the College of Business Administration, offered his warmest congratulations and expressed his sincere gratitude to Dr. Khaled Elmawazini and the Economics & Finance Department for this achievement. Prof. Jean-Paul noted, "At the CBA, we are always in a continuous improvement process, revising our curriculum when needed to equip our students with the skills needed by the industry. The CII accreditation is yet another recognition of our unceasing commitment to top-quality education."
Other top universities accreditted by CII include University College London and University of Nottingham, while GUST and King Abdulaziz University are the only two universities in the GCC accredited by CII.
GUST Sponsors 11th QS Maple Conference
Kuwait City, 28 March 2021: Gulf University of Science and Technology sponsored the 11th QS Maple conference. The conference spanned three days between the 23rd and 25th of March, and it was also the second edition to be held virtually since its inception. QS Maple's organizing partner for 2021 was Prince Mohammed Bin Fahad University, based in Khobar, Saudi Arabia. The theme for this year's edition was "The Future Today: Sustainable growth towards 2030".
The goals of the conference included networking both professionally and on behalf of the institution, the opportunity to meet decision-makers and experts relevant to the Middle East and Africa in one place. Professional development by sharing best practices by a diverse set of institutions. As well as trend watching and research by engaging first-hand with knowledgeable participants from the region and beyond. Lastly, promotion of one's institution to global peers for potential collaboration and all-round branding. The attendants included public officials and policymakers, senior or rising education administrators, professors, Ph.D. students, international quality assurance agencies, and various NGO's.
Among the key guest speakers were Dr. Issaa H. AlAnsari, President of Prince Mohammad Bin Fahd University; Haifa Al Kaylani, Founder & Chairman, Arab International Women's Forum and Commissioner; Ashwin Fernandes, Regional Director – Middle East, North Africa & South Asia, QS Quacquarelli Symonds; and Andrew MacFarlane, Rankings Manager, QS Quacquarelli Symonds.
GUST's Vice President of Academic Affairs, Dr. Bassam Alameddine said, "The conference is amongst the most adequate regional platforms that allows us to show fellow institutions of higher education the mission and values that GUST represents in the community. Strategically, it was important to disclose how far GUST has come since its inception and the ambitious future plans that we have as a leading institute in the GCC."
QS MAPLE is designed for senior and rising higher education leaders, as well as academics, who are interested in the advancement of higher education in the Middle East and Africa in an international context.GUST's sponsorship demonstrates its commitment to engaging with brilliant minds from around the world to exchange ideas and find innovative solutions to new-world problems.
AACSB Accreditation Extended
Kuwait City, 17 February 2021: The Gulf University for Science and Technology's College of Business Administration's AACSB accreditation has been extended for an additional five years. The extension further solidifies the university's local and global position in providing premium education.
AACSB is a global non-profit association that has 1700 member organizations worldwide, as well as 840 accredited business schools worldwide. Its main mission is to set the standard for business education globally. Along with accreditations, AACSB holds numerous seminars for individuals and for its member organizations, as well as conferences, publications which include insight into business school data and current trends in business.
The Dean of the College of Business Administration, Dr. Jean-Paul Arnaout said, "The College of Business Administration (CBA) is delighted to announce the successful extension of AACSB accreditation of all the business degree programs offered by the school. Being AACSB-accredited is an achievement in that only 5% of the Business schools worldwide have earned this distinction, and a testament of the years of work by our faculty and staff, along with the success of our current students and alumni. Congratulations to the faculty, students, staff, and all supporters of the school!"
This accreditation is just one of many that GUST holds. In addition to the AACSB Business accreditation, GUST also holds accreditations from the Commission on English Language Program Accreditation (CEA) for its English Foundation Program, the College Reading & Learning Association (CRLA) for its One Stop Student Advising Center, the National Association for Developmental Education(NADE) for its Math Foundation Unit, ABET Computing Accreditation Commission for its Computer Science Program, and the American Communications Association (ACA) for its Mass Communication and Media Department.
GUST breaks into QS International Rankings
Gulf University for Science and Technology (GUST) announced that it has been inducted into the global rankings by one of the most influential international university rankings firms, Quacquarelli Symonds (QS) Limited. With this new milestone, GUST is the only private university in Kuwait to make the list, making it the top-ranked private educational institution in Kuwait.
This comes as a major achievement, as the university was previously only ranked among universities in the Arab region. Only two universities from Kuwait featured in the international ranking, with the other being Kuwait University. As a new entrant to this list, GUST is joined by only 46 other universities, which makes this achievement even more exceptional.
University President, Professor Walid Bouhamra said, "This is a remarkable achievement for our young university, especially as we try to navigate such unprecedented circumstances. Our focus from the very beginning has been on providing our students with a high-quality institution that is recognized as a pillar and hub of knowledge. This new accolade reflects the level of education GUST provides. Furthermore, being the only private university from Kuwait is a major triumph for us. This is a testimony to the success of our policies towards diversification, academic excellence, and focus on quality".
GUST has featured in the QS University Rankings for the Arab Region since 2016, when the university was ranked as 73rd, and 49th the following year. This year, the university has improved to the extent that it is now featured in rankings that evaluate the strengths of all of the world's higher education institutions. To feature on this list, the university is ranked according to specific measurements, namely, academic reputation, employer reputation, faculty student ratio, citations per faculty, international faculty index, and the number of international students.
With this, GUST remains the only private university in Kuwait to be internationally recognized in this manner for its academic prowess, and further highlights the dedication and calibre of its faculty, students, and staff. The QS ranking shows that GUST continues to maintain its leadership among private universities in Kuwait in key areas covered by the assessment.
Since 2016, GUSTs strategic goal is to enhance its position in the coming couple of years and to be listed in higher positions in the international rankings. QS World University Rankings, Times Higher Education World University Rankings, and US News Best Global Universities provide one of the few external measures of university strength and can be a factor in how prospective students choose the right school.
GUST and KPC Announce Recipients for Sustainable Development Scholarship
Gulf University for Science and Technology announced last week that GUST alumni have been awarded the Kuwait Petroleum Corporation (KPC) Sustainable Development Scholarship to the University of Sussex in the United Kingdom. The scholarship is the first of its kind for both institutions and is set to take place from November 23 to December 7. The scholarship covers all tuition fees as well as travel and subsistence costs and educational materials during the two-week training course.
The alumni were selected based on criteria set by the university and KPC. Notably, applicants had to have a GPA of 3.3 or above, graduated within the last two years, be Kuwaiti citizens, and be unemploymed throughout the duration of the program. The selected alumni are: Lojain AlOmani, Sara AlMusallam, Samaa AlSaif, Ghadna AlKhamees, Munirah AlMailam, Shaikha AlMatouq, Budoor AlKhaledi, Bodoor AlZanki, and Yousef AlMunayes.
GUST President, Professor Walid Bouhamra, and KPC PR Manager, Jamal Al-Sanoosi met with the recipients to congratulate them and express their excitement for the program. Also present at the meeting were Vice President for Academic Affairs, Dr. Fahed Al-Sumait, Vice President for Professional Development and Community Services, Dr. Ahmed Al-Darbas, Dean of the College of Business Administration, Prof. Antonis Simintiras, Head of the Business Administration Department, Dr. Ahmed El-Melegy, Initiative Members, Dr. Osama Al-Falah and Dr. Garvan Whelan, as well as International Program Coordinator, Nabae Asfar.
The students will be attending daily courses on Sustainable Development which crystallizes key concepts and provides the alumni with the opportunity to apply them to their geographical context of Kuwait and across various sectors, in particular, energy. All classes will be held at the Science Policy Research Unit at the University of Sussex.
The sessions have been assembled into an intensive course with a distinct and cumulative set of learning outcomes, and will be delivered through purpose-designed teaching and learning activities. The first week will include an introduction of the historical and contemporary debates on sustainable development as a whole, help the students understand the origin of sustainable development and its current manifestations in business, policy and politics; as well as apply a selection of economic and non-economic frameworks to understand and analyze sustainable development issues, in particular around the energy policy. The second week will focus on transformations to sustainable development where students will get to understand the systemic changes required to deliver the 17 sustainable development goals as set by the United Nations, the role of power and politics in their realization, and to develop an appreciation of the economic, social, and historical roots of social and environmental injustice.
By the end of the course students will be able to demonstrate a working knowledge and understanding of sustainable development concepts and frameworks, and have the ability to apply them at different levels and in different contexts.
Although this is the first scholarship for alumni, it is a valuable addition to GUST's multiple study abroad programs available to its students. Other similar opportunities include the Summer Scholarship Program to the University of Missouri – St. Louis and George Washington University in the USA, and the MBA study abroad course which most recently took place at the Freie University in Berlin, Germany.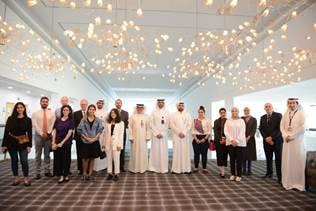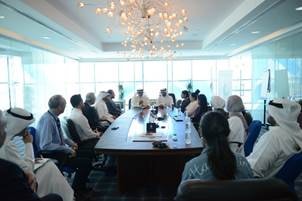 New Agreement with National Bank of Kuwait (NBK) Appointing GUST as a "Training Partner" for NBK Academy - Wave 6.
New Agreement with National Bank of Kuwait (NBK) Appointing GUST as a "Training Partner" for NBK Academy - Wave 6.
National Bank of Kuwait (NBK) launched the sixth batch of NBK Academy for newly hired young Kuwaitis with GUST being appointed as a "Training Partner" in Kuwait.
NBK Academy aims to train and develop the professional skills of young Kuwaitis as part of NBK's strategy to attract and develop national human resources. GUST will provide customized training solutions upon the need of NBK.
The agreement has been signed at NBK Human Resources Head Office by Mr. Emad Al Ablani, NBK Deputy General Manager of Human Resources and Dr. Osama Al-Hares, Director - Centre of Alumni & Corporate Relations (CACR) at GUST.
Mr. Al Ablani said: "NBK Academy is the first initiative of its kind in the private sector in Kuwait, and is part of NBK's strategy to attract young Kuwaitis by offering them a range of career and professional development opportunities."
On his part, Dr. Al-Hares praised the strong relations linking GUST and National Bank of Kuwait (NBK) since 2007 adding that NBK Academy is a great example of how a corporate academy can transcend the traditional roles prescriptions of the learning function, develop a passion for learning, and be the motivation for every graduate starting his or her career path.
NBK Academy programs run for five months and are specially tailored to provide trainees with theoretical and practical skills covering the different aspects of the banking industry.
GUST is the Exclusive Academic Partner for Boubyan Bank's "ITQAN Academy".
Boubyan Bank (the FASTEST GROWING BANK IN KUWAIT) announced the launch of its ITQAN Academy in cooperation with GUST, which will act as a center for developing the Bank's human resources in an academic way by providing the most advanced specialized programs, administrative sciences and programs accredited by international institutions, all in compliance with the Bank's business environment and the Shari'ah.
Dr. AbdulRahman Al-Muhailan: "The Agreement stems from our commitment and cooperation with a leading
Kuwaiti Bank for developing human resources".
In this respect, Dr. Abdul-Rahman Al-Muhailan, Chairman of the Board of Trustees at GUST said that the Agreement stems from our commitment and cooperation with civil community institutions and a leading Kuwaiti bank for developing the human capabilities and the best utilization of performance development in the different aspects of life; being the effective factor to upgrade our institutions. The process of development and enhancement of training using GUST's academic programs such as MBA program as well as advanced technological learning methodologies such as e-learning, which Boubyan ITQAN Academy seeks to include within its programs, is indeed a source of pride for us and we appreciate that Boubyan Bank's Management is aware of the importance of qualifying the promising future generations of this nation.
Commenting on the Agreement signed with GUST, Mr. Adel Abdul-Wahab Al-Majed, Chairman & MD of Boubyan Bank said: "The Management of Boubyan Bank believes in the importance of human resources, being the key driver for realizing any success or achievement" adding that investment in development the staff's capabilities from all levels and imparting them with required experience is regarded as a cornerstone for the Bank's plans targeting more development and part of its main strategy to be the bank of choice in the area of Islamic banking services.
Al-Majed stressed the importance of this step which puts the Bank among the institutions giving due care to their human resources, expressing, at the same time, his appreciation of the role to be played by GUST in participating with the Bank in developing its human resources. He also indicated that the launch of ITQAN Academy would not have been completed without the cooperation and alliance with a partner with special capabilities and expertise, and therefore our choice fell upon GUST which is accredited by the University of Missouri at St. Louis (UMSL), and thus signed an agreement with it to act as the Exclusive Academic Partner in Kuwait for establishing ITQAN Academy.
Mr. Adel Al-Majed: "ITQAN Academy aims at creating young Kuwaiti cadres and building their
careers by providing the opportunities to receive high qualifications".
Al-Majed pointed out that the Academy aims at qualifying the aspiring the Kuwaiti youth and fresh graduates to work at Boubyan Bank in a way that provides them with opportunities for promotion and building their career as well as giving them the privilege of getting in touch with the Academy's cadre, which are specialized and experienced in giving training programs accredited by international agencies.
On his part, GM- Human Resources Group, Mr. Adel Al-Hammad said that the Academy will provide training opportunities for a whole year to the Bank's staff in many fields such as specialized training programs in financial management, business administration, communication skills, human resources development, self-development as well as advanced, distinguished programs in customer service and professional banking product sales.
Al-Hammad added that Boubyan Bank strives to be the employer of choice for Kuwaiti fresh graduates by providing a work environment encouraging the development of the capabilities of the youth and giving the opportunity for career development to talented trainees within a carefully planned scientific framework under the supervision of ITQAN Academy work team. In addition, the programs of ITQAN Academy are based on the Blended Learning Approach comprising training courses, on-the-job training, job rotation, guidance and instruction, e-learning and assessment centers.
He also indicated that the Bank strives to invest in the Kuwaiti youth through providing training programs and academic curricula fitting the banking business and qualifying them to obtain part of the MBA program as the Academy trainees fulfilling specific conditions will be able to obtain 24 accredited academic credits of the MBA provided by GUST, and these accredited credits will be in match with the basic work requirements in Boubyan. Moreover, trainees will be given the opportunity to complete the remaining accredited credits of the MBA at GUST in order to obtain the certificate, if they so desire.
GUST Signs MOU with CFA Society Kuwait
Gulf University for Science and Technology (GUST) signed a Memorandum of Understanding with Chartered Financial Analyst (CFA) Society Kuwait with the aim to strengthen ties between both organizations in terms of academic and professional exchange. The agreement includes opportunity for specialists from both sides to access platforms and research materials and exchange educational and teaching materials, in addition to organizing joint events such as lectures and workshops aimed at developing the expertise of those interested in financial knowledge, especially for GUST's Finance major students.
The memorandum of understanding was signed between the two sides, in the presence of the Chairman of the Board of Trustees, Mr. Nawaf Arhamah Arhamah, the President of CFA Society Kuwait, Mr. Mohamed Al-Sarraf. The MOU agreement included the exchange of scientific and technical material, such as teaching material, training material, and relevant literature to the field of finance. Another aspect was the formation of several workshops, conferences, and lectures which would help mentor and breed potential CFA Level 1 candidates at GUST.
Chairman of the Board of Trustees, Mr. Nawaf Arhamah Arhamah, said "I am pleased to have finalized this agreement between the University and the CFA society in Kuwait, which comes as part of the University's aim to enhance the professional and academic experience of our students, specifically in the field of finance."
President of the Chartered Financial Analyst Society Kuwait, Mr. Muhammad Al-Sarraf, said "the association has participated and worked with GUST on several occasions over the past ten years, and that the signing of the memorandum of understanding represents a milestone in the relationship between these two prestigious institutions. CFA has great plans that it hopes to achieve with GUST especially in preparing students for the CFA certification exam."
Following the signing of the memorandum of understanding, GUST honored its second-place winning team in the CFA Institute Research Challenge competition with local universities. They were presented with certificates of achievement by the Chairman of the Board of Trustees, Nawaf Arhamah Arhamah, and the head of the Economics and Finance Department, Dr. Khaled ElMawazini. The names of the students who were honored included: Hassan Hani, Abdulaziz Al-Khashti, Fay Al-Olayan, Kawthar Odeh, Omar Hosam, Sarah Qabazard, Shawq Al-Zaben, Suleiman Al-Roumi, and Thanian Al-Mulla. They were all lead and mentored by Economics and Finance Department instructor, Dr. Mohammed Ali.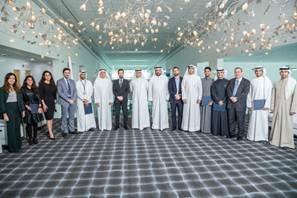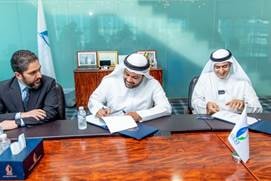 Gulf University for Science and Technology has signed a Memorandum of Understanding (MoU) with Kuwait Finance House (KFH). This agreement comes in efforts to further provide a framework for cooperation and coordination, while boosting a constructive connection between the two organizations.
AVP for Planning and Development at GUST, Eng. Paul Zalloua, and Group Chief Human Resources Office at KFH, Frederick Carstens, signed the MoU at KFH headquarters in presence of VP for Academic Affairs at GUST, Dr. Salah Al Sharhan, Group Public Relations and Media at KFH, Yousef Al Ruwaieh, and officials from both sides.
VP for Academic Affairs at GUST, Dr. Salah Al Sharhan said "We look forward to continuing our cooperation with a leading institution in the private sector such as KFH, and we value their efforts in working with us in preparing our students for leadership positions. One of our top priorities is preparing our students to face the workplace with confidence, equipped not only with academic knowledge but also with skills that enables them to tackle everyday challenges."
The framework of cooperation with KFH encompasses training programs, internships, full-time and part-time jobs, KFH sponsorship of GUST activities, career seminars, GUST facilities and space utilization, case studies programs including approaches and collaboration planning.
Group Chief Human Resources Office at KFH, Frederick Carstens, said "We are delighted to establish longstanding collaborative links with GUST. It is envisaged that signing the MOU will definitely foster development links between the two organizations for the best interest of KFH employees and GUST students"
Carstens added that pursuant to the MoU, GUST and KFH recognize each other as important organizations in the learning and development field, and that this signing reflects both institutions' keenness on maintaining high levels of services and benefits to its employees and members.
AVP for Planning and Development at GUST, Eng. Paul Zalloua concluded, "This MoU is important to the future of our graduates. Being proactive with KFH through our internship and placement programs, we offer our students yet another opportunity to join the workplace immediately after graduation. KFH has been supportive of our programs, and their feedback on the performance of our graduates is valuable towards preparing our students in aspects of workplace skill and productivity"