Admission Requirements and Procedures
Admission to GUST is on a competitive basis. Regardless of the type of admission, all applicants must submit all documentation to complete the general admission requirements.
GUST welcomes applications from students from all types of schools and backgrounds. We provide our students with the best educational resources and services to promote intellectual growth and career advancement. From the academic challenges encountered when adjusting to university life to the various campus activities offered for students, GUST has a diverse collection of resources available to help our students succeed both academically and personally.
Gulf University for Science and Technology takes women's applications, acceptance and completion rates very seriously. The Admission and Registration department has a dedicated team to track and measure the rates mentioned on a regular basis. GUST University tracks both undergrads and postgrads female/male, international/local, and other ratios for admitted, enrolled and graduated students.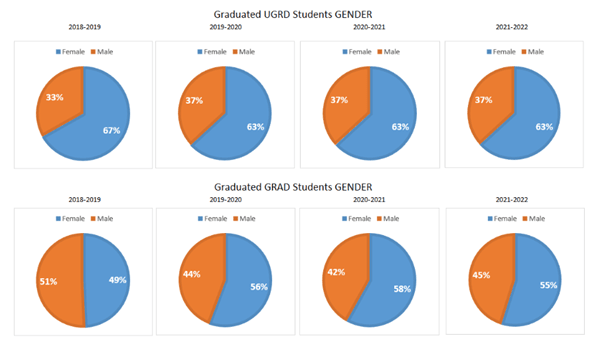 GUST TESOL Graduate Scholarship Program
GUST MASTER'S DEGREE IN TESOL SCHOLARSHIP PROGRAM
Calls for applicants – Two Scholarships are Available
GUST offers up to two scholarships for GUST students wishing to enter in a Master's Degree program in Teaching of English to Speakers of other Languages (TESOL) at one of the universities recommended by the GUST Scholarship Committee. These scholarships are only open to applicants who have served as a full-time teaching assistant in the Foundation Year Program at GUST for two years.
SCHOLARSHIP REQUIREMENTS AND TERM AND CONDITIONS
· Applicants must be GUST graduates in one of the programs offered by the Department of English.
· Applicants must have been employed and served with excellence at GUST as a full-time Teaching Assistant for the Foundation Year Program. In such cases, applicants would be granted a leave of absence of one year to pursue their MA in TESOL.
· Maximum period for the scholarship is one calendar year.
· Applicants must have an unconditional admission to an MA in TESOL at one of the universities recommended by GUST (Applicants must verify the acceptability of their Master's Degree institution before applying).
· Applicants must hold Kuwaiti citizenship.
· Applicants must be 30 years old or less at the time of application.
· A letter of support from the Director of the Foundation Program Unit.
· A resume stating their educational achievement and work experience.
· Copies of transcripts and any admission exams results (e.g.: TOEFL or IELTS).
· Scanned copy of the civil identification card and passport photo page.
· A completed application form.
All awardees will receive:
1. A sum of money monthly equivalent to the normal TA salary.
2. All expenses related to tuition, fees, examination charges and thesis costs.
3. Book allowance per academic semester of 200 KD.
4. A round trip airline ticket to the study destination.
5. Basic medical insurance for the duration of mission.
1. The sponsored MA student is required to maintain full-time status throughout the study period.
2. The sponsored MA student is required to comply with the laws of the host country; follow the rules and regulation of their schools; comply with Kuwait Cultural Division's policies; maintain perfect attendance and graduate on time.
3. GUST maintains the right to terminate or suspend a student's Scholarship on the evaluation and recommendation of the GUST Scholarship Committees or the Cultural Attaché. The Committee may also consider an enlarged study period not to exceed one extra semester.
5. Upon completion of the MA in TESOL, the Teacher Assistant is required to serve at GUST for at least two consecutive years.
6. GUST reserves the right to modify, add, delete or interpret the articles of the regulations in accordance with the Scholarship Committee's recommendations.
7. In addition to these regulations, Law 19-2000 issued on 9 May 2000 by the Amir of the state of Kuwait regarding support and encouragement of national labor to work in non-government sectors will be applied to all Scholarship recipients.