Female Employees and Children
The new labour law prohibits employment of minors, or an individual below 15 years of age.
A woman should be paid equal remuneration for performing same work as a man. The standard working hours for women are the same as that for men. However, women may not work at night 8pm to 7am, except in clinics, hotels, pharmacies, nursery schools, homes for handicapped, airline and tourist offices, theatres and Entertainment City. They can work up to midnight in co-operative societies and public utilities, restaurants, beauty salons, banks, tailoring shops and offices. Employers are obliged to arrange transportation for women working at night.
Discrimination and Equal Remuneration
Kuwait has not ratified ILO Convention No. 100 (1951) on Equal Remuneration but ratified ILO Convention No. 111 (1958) on Discrimination (Employment and Occupation) in 1966. The law stipulates that women's remuneration should be equal to that of a man for "same work". The stipulation falls short of the international standard for 'equal remuneration between men and women for work of equal value'. Article 29 of the Constitution guarantees equality without discrimination on grounds of gender, language, religion and other grounds. However, the absence of comprehensive legal provisions defining and prohibiting discrimination against women renders the constitutional principle unenforceable. The UN Committee on the Elimination of Discrimination against Women (CEDAW) has found many discriminatory provisions in the Personal Status Act, the Civil Code, the Nationality Act, the Education Act and the Private Sector Labour Act. Several of these provisions concern women's employment. For instance, the Private Sector Labour Law of 2010 prohibits employment of women at night, employment of women in dangerous, hard or harmful to health trades and "such jobs which are violating their morals and based on the utilization of their femininity in a manner which is not in line with the public morals".
The government has established mechanisms on women's equality, including the Coordination Committee on Women's Affairs, which advises the government and the parliament's Committee on Women's Affairs. However, the impact and effectiveness of the Coordination Committee is not clear.
In practice, only 47 per cent of Kuwaiti native women are part of the workforce. Women face a gender pay gap of 34 per cent and they are underrepresented in senior and management jobs, although women account for 53 per cent of public workers. Only 14 per cent of highly skilled jobs are occupied by women.
Many women working as domestic workers are left unprotected as the law's scope does not cover them. The difficulty of access of labour inspectors and other law enforcement officials to homes makes domestic workers particularly vulnerable to various forms of exploitation as well as sexual harassment.
In a case that could result in a landmark decision and create new legal grounds with regard to the employment rights of women, the Supreme Judicial Council rejected the application of a female law graduate to become a public prosecutor in April 2010. The Council based their decision on grounds of gender and explicit legal requirements laid out in the Constitution that ban women from serving in prosecutorial positions. On the other hand, in July 2010, the authorities allowed women police officers, previously restricted to deskwork, to work in public, for instance on patrols.
There is no law prohibiting sexual harassment at the workplace. Recently, the authorities established a women police task force, which intervenes in cases of sexual harassment in public venues.
Kuwait Labour Law for Women
AUM respects the policies established by our government and keeps track of them.
A female must be treated just as much as a male for doing a similar job. Females perform almost the same regular hours as males. A woman can only labor between 8 pm, and 7 am if she is employed by a healthcare or resort or a pharmacy or a nursery or a center for something like the disabled or an aircraft or visitors center or a concert or Recreation Center.
Financial institutions and essential services, cafes, salons, banking, designing workshops, and workplaces are all places where they can labor till the early hours of the morning. It is the responsibility of the owner to provide transport services for women who work late at night.
Maternal pay for women is one month before the actual estimated deadline and 40 days once the kid is born.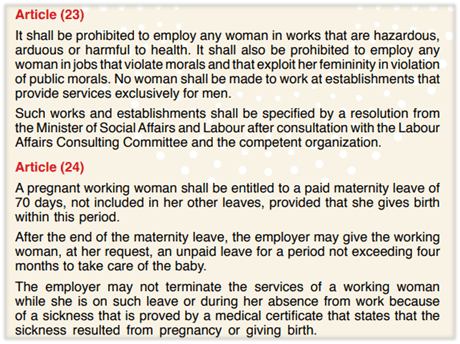 The purpose of the Gulf University for Science & Technology (GUST) remuneration policy is to:
· Provide fair, equitable and competitive compensation for its employees regardless of their gender, race, color, religion, sex, age, social status, physical or mental disability or any other factor.
· Encourage and reward high performance
· Attract individuals of the right caliber, qualifications and experience for the joins in the University
· Provide flexibility to adapt to market changes and imperatives
· To be managed in a structured and standardized manner
· HR develops salary scale based on market compensation data obtained from professional surveys
· Salary scale consists of grades that describe different job levels and categories in the organization.
· Jobs are evaluated by HR Department to determine the appropriate grade
· The HR Department will, on a three-year basis, undertake a market review to ensure the continued competitiveness of the salary structure. Recommendations from this review will be presented to the University Senior Management Team for consideration and action as deemed appropriate ❖ The below terms are used to describe the various components of employees remuneration:
➢ "Salary" refers to the cash payments made by GUST to an employee on a monthly basis, in compensation for the effort he/she deployed in performing his/her job.
➢ "Allowance" refers to cash payments made by GUST to an employee, whether on monthly basis, or not, in compensation for the effort he/she deployed in performing his/her job (e.g.
transportation, communication, housing, etc.). Employees' eligibility to the allowances is as per their job level and business needs as mentioned in their contracts.
· "Benefit" refers to an advantage granted to an employee of such as:
a. Employees will be enrolled under workers' compensation insurance plan upon joining
b. Employees are covered for job-related injuries/diseases.
c. Coverage is provided during working hours including the travel from place of residence to work and vice versa.
d. Compensation amount for job-related injuries/diseases are set per the Kuwait Labor Law and/or insurance policy.
e. Some restrictions may be applied, refer to the current Workmen Compensation Policy
a. GUST Employees are eligible for Group Health Insurance Plan coverage
b. Employees will incur part of the treatment cost in line with the agreed Insurance Plan terms and conditions
c. If the employee is entitled for health insurance coverage for spouse and children, then they must be resident in Kuwait to be enrolled in the health insurance plan
3. Temporary Accommodation
a. For international new hires, accommodation will be provided for a period of one month.
b. The employee will not receive the monthly housing allowance, if applicable, during the stay in the temporary accommodation.
4. Duplication of Benefits
a. If a husband and wife are both employees of GUST, then the employee with the higher entitlement will get the Benefit for the children.
b. It is the responsibility of the employees to declare their status to the HR department.
5. In case an employee has already claimed full entitlement for an ongoing year and either employee or the GUST terminates his employment, a prorated amount based on his date of resignation or termination will be deducted from the end of service benefits.
This policy shall apply to all GUST employees.
| | |
| --- | --- |
| Job Title | Salary |
| Assistant Professor | KWD 1,833/month |
| Undergraduate Teaching Assistant | KWD 550/month |
| English Teacher | KWD 720/month |
| Research Analyst | KWD 600/month |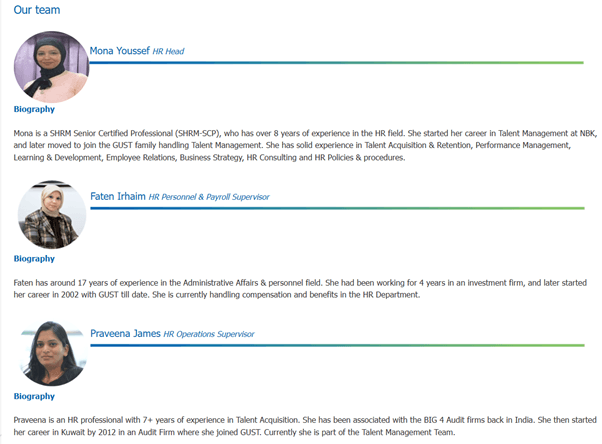 Talent Acquisition and Retention
Encompasses the activities involved in building and maintaining GUST workforce, such as sourcing, recruiting, hiring, onboarding, orientation & retention.
The main tasks are handling:
1. Job advertisements in local and overseas targets.
2. All recruitment formalities to employ academic and non-academic staff from both Kuwait and abroad according to the University's manpower needs.
3. Part-time faculty or staff member hiring whenever requested.
4. Authentication of all degrees and transcripts for faculty.
5. Monthly/weekly progress reports that record the unit's activities.
6. All recruitment offers and contracts.
7. Applicant queries concerned with their recruitment procedures.
8. All manpower requests and obtain the necessary approvals.
Total Rewards
Encompasses direct & indirect remuneration approaches used to attract, recognize and retain GUST employees.
The main tasks are handling:
1. Staff and faculty payroll
2. Annual manpower and training budgeting
3. Annual ticket for faculty/directors
6. Education allowance for faculty/directors
7. Annual ticket for faculty/directors
8. End of Service process for exiting staff and faculty
This unit is responsible for all the government relation activities and requirements within GUST.
The main tasks are handling:
1. Renewal/Creating of Residency and Civil ID for all staff and faculty.
3. Driving license issues.
Personnel and Administration
This unit is responsible for all the personnel and administrative activities and requirements within GUST.
The main tasks are handling:
3. Conference and duty issues for staff and faculty
To promote and support employee development that enhance organizational knowledge and employee capability within GUST.
The main tasks are handling:
1. GUST organization structures
3. Employee investigations
5. Staff Performance appraisal and assessments
6. Employee Development Plans
7. Employee Competency Framework
Policy of non-discrimination
GUST code of Conduct Policy was issued in October 2nd 2013 and slightly modified in April 12th 2022.
In GUST Code of Conduct Policy, article I, Our commitment states:
The Gulf University of Science & Technology (GUST) is committed to the highest level of integrity and honesty in all of its affairs, without any kind of discrimination against women

Equal Employment Opportunity
• It is GUST's policy to recruit, employ and promote employees on the basis of their skills, qualifications and abilities required for the work to be performed, with no discrimination to race, color, religion, sex, age, social status, physical or mental disability or any other factor.
• If outsourcing activities to third parties needed, then GUST takes all appropriate measures to ensure the equivalent rights of employees are met.

GUST is committed to provide all employees with a work place that is free from harassment based on race, color, religion, sex, age, national origin, social status, physical or mental disability or any other factor. Harassment include all actions of verbal harassment, physical harassment, visual harassment or sexual harassment .

Admission to GUST is on a competitive basis. Regardless of the type of admission, all applicants must submit all documentation to complete the general admission requirements.
GUST welcomes applications from students from all types of schools and backgrounds. We provide our students with the best educational resources and services to promote intellectual growth and career advancement. From the academic challenges encountered when adjusting to university life to the various campus activities offered for students, GUST has a diverse collection of resources available to help our students succeed both academically and personally.
Gulf University for Science and Technology takes women's applications, acceptance and completion rates very seriously. The Admission and Registration department has a dedicated team to track and measure the rates mentioned on a regular basis. GUST University tracks both undergrads and postgrads female/male, international/local, and other ratios for admitted, enrolled and graduated students.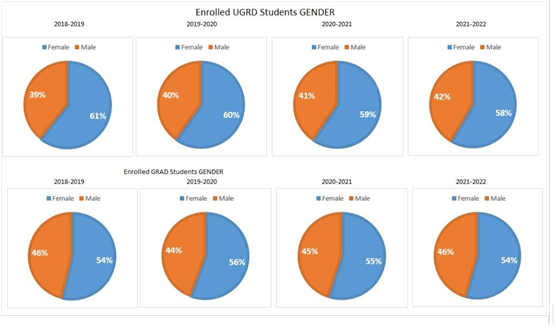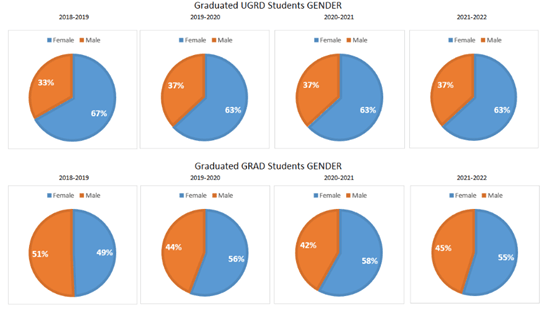 Committee on the Elimination of Discrimination against Women
The Committee on the Elimination of Discrimination against Women today considered the fifth periodic report of Kuwait on its implementation of the provisions of the Convention on the Elimination of All Forms of Discrimination against Women.
Introducing the report, Jamal Al-Ghunaim, Permanent Representative of Kuwait to the United Nations Office at Geneva, said that Kuwait was committed to reviewing and modernizing legislation relevant to women's affairs in order to eliminate all forms of discrimination against women; to promoting the political participation of women; and to establishing an institutional mechanism for the protection of women from all forms of violence. There was progress in increasing the participation of women in nontraditional fields, and today there were 500 female police officers of various ranks, women made up 44 per cent of investigators, and 22 female public prosecutors had been hired. A national mechanism for women's affairs – the Women's Affairs Committee – affiliated with the Cabinet, had been set up to empower and promote the status of women in Kuwait, and 16 May had been designated as the Kuwaiti Women's Day to mark the day on which women had achieved all political rights. Kuwaiti women had paved the way forward for Gulf women, they had been the first to assume leadership positions as university presidents, ministers and members of parliament – this was a credit to the role of Kuwaiti women and the efforts by the Government to enable women.
GUST is committed to providing a positive work and learning environment where all individuals are treated fairly and with respect. Intimidation and harassment have no place in a university community.
It is the responsibility of the University to utilize its resources toward the creation of quality academic programs and to provide a friendly campus environment, which is conducive to learning and personal development. Interactions among GUST students, faculty, and staff should reflect mutual respect and professionalism.
A student enrolled at GUST assumes an obligation to behave in a manner compatible with the University's function as an educational institution. The GUST Code of Student Conduct generally shall be limited to conduct which occurs on the University premises, at University-sponsored, or University-supervised functions. However, GUST administration may take appropriate action against students for conduct on or off University premises in order to protect the physical safety of students, faculty, staff, and visitors. Conduct, for which students are subject to sanctions, is described in detail in the University Code of Student Conduct.
The following sanctions may be imposed upon any student found to have violated the Student Conduct Code:
1. Warning: A notice in writing to the student that the student is violating or has violated more than one (1) of the sanctions may be imposed for any single violation: institutional regulations.
2. Probation: A written reprimand for violation of specified regulations. Probation is for a designated period of time and includes the probability of more severe sanctions if the student is found to be violating any institutional regulation(s) during the probationary period.
3. Loss of Privileges: Denial of specified privileges for a designated period of time.
4. Restitution: Compensation for loss, damage or injury to the University or University property. This may take the form of appropriate service and/or monetary or material replacement.
5. Discretionary Sanctions: Work assignments, service to the University or other related discretionary assignments.
6. University Dismissal: An involuntary separation of the student from the institution for misconduct apart from academic requirements. It does not imply or state a minimum separation time.
7. University Suspension: Separation of the student from the University for a definite period of time, after which the student is eligible to return. Conditions for readmission may be specified.
8. University Expulsion: Permanent separation of the student from the University.
9. Temporary Suspension: A College Dean or designee may at any time temporarily suspend or deny readmission to a student from the University pending formal procedures when the Dean finds and believes from available information that the presence of a student on campus would seriously disrupt the University or constitute a danger to the health, safety or welfare of members of the University community. The appropriate procedure to determine the future status of the student will be initiated within seven (7) calendar days.
10. Removal of the student from university housing or other student university services.
11. Withholding the student's diploma until their case is resolved for any of the above allegations outlined in GUST's student conduct policy.
12. Sanction against a member of a student organization or the student organization as a whole, such as a temporary or permanent loss of rights or privileges.