Professor Bassam Alameddine
Vice President for Academic Affairs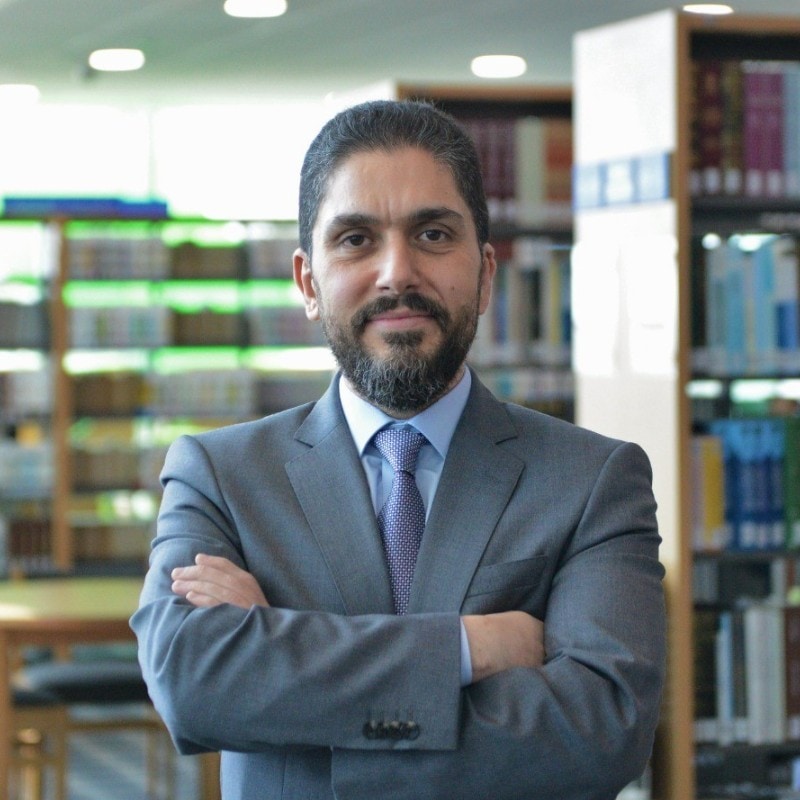 Message From The Acting President
Gulf University for Science and Technology continues to retain its position as a top-quality, highly ranked educational institution and the first choice for students seeking excellence and experiential learning. The GUST annual report for the academic year 2021-22 offers an accurate evaluation of what was a year of dynamic evolution for our institution with many achievements from faculty, staff and students. The continued strong collaborative relationship between the administrative and academic units contributed significantly in providing our students with the best educational experience and preparation for their future careers.
CONTINUING TO MEET HIGH STANDARDS OF EXCELLENCE
International accreditations are an institution of higher learning's "stamp of excellence" as program accreditation is an independent declaration that the accredited program meets established international standards in areas of curriculum, teaching methods, faculty qualifications, facilities, and research. GUST continues to work toward the goal of international accreditation for all university departments. During AY 2021/22, the College of Business Administration received reaccreditation of all of its programs by the prestigious Advance Collegiate Schools of Business (AACSB) for the next five years. In addition, the Mass Communication Department received reaccreditation of its programs form the American Communication Association for an additional five-year period. These reaccreditations are evidence of GUST's commitment to maintaining international standards of high-quality education.
SUPPORTING FACULTY RESEARCH AND INTERNATIONAL COLLABORATIONS
High quality faculty research is an indicator of an active, globally aware institution. GUST is committed to supporting faculty research through continued funding of internal seed grants, support for KFAS external grant authorship by faculty as well as support for conferences. The result of this support was impressive research publications by faculty in AY 2021/22.
International collaborations are another avenue through which GUST supports faculty and students. Nine GUST students were awarded summer scholarships to attend top-ranked American universities and two students were awarded GUST Graduate scholarship to pursue their Master and Ph.D. studies at highly ranked universities in the United States and in the United Kingdom. Several GUST faculty members participated in the GUST faculty fellowship program which allows faculty to travel to other universities to collaborate in innovative research.
CLIMBING IN THE WORLD RANKING
Once again, GUST has reaffirmed its position as one of the leading universities in teaching and research in Kuwait by being listed in both the QS World and QS Arab Region University Rankings. The 2020-21 QS ranking performance placed GUST among the top fifty to sixty universities in the Arab Region out of 1000 universities. The improvement in ranking was due to GUST continual commitment to the improvement of academic reputation, faculty to student ratio, employer reputation and other factors related to excellence in research and quality in faculty and staff.
EXPANDING PROGRAMS AND CAMPUS FACILITIES
The completion of the new state-of-the-art Engineering building marks a new chapter in the history of the university. With the completion of the new addition, GUST will be able to offer students options to study new and innovative engineering specializations which represent the ever-evolving needs of a job market that constantly changes with the introduction of new technologies. Additional programs are also forthcoming to expand the options available to students.
GUST's major focus continues to be the enhancement of its curricula to match the job market needs and build key international partnerships to support and promote excellence in education and research. This will prepare our students for a new job market where competencies such as entrepreneurship, leadership, technological and experiential skills are essential.
This annual report features highlights of the year, some of which have been accomplished while others are ongoing. Our achievements would not have been possible without the hard work, commitment, professionalism, and expertise of our faculty, staff, and students. I would like to thank them for making Gulf University for Science and Technology such an outstanding knowledge hub for Kuwait and the region.