type
FACULTY DEVELOPMENT SEMINAR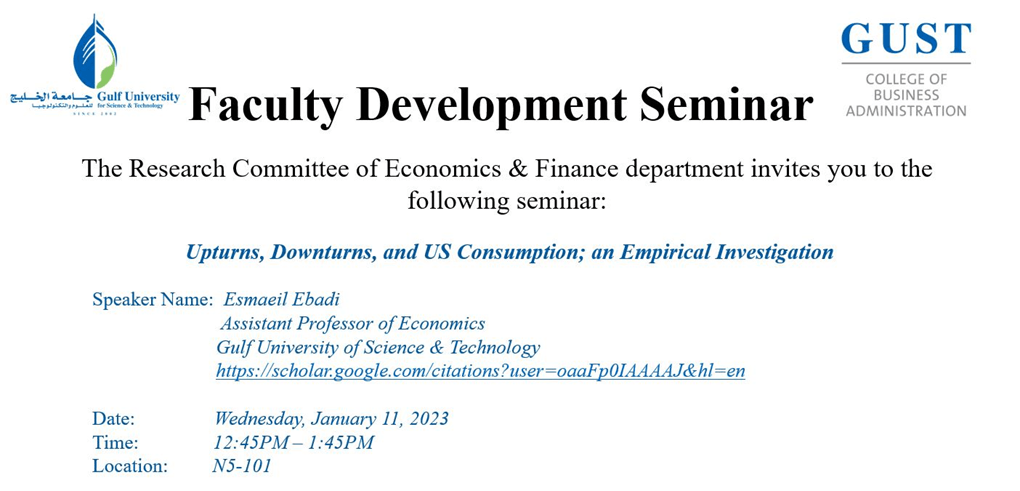 Upturns, Downturns and US Consumption by Dr. Esmaeil Ebadi, Associate Professor of Economics
Meet Dr. Ebadi
Dr. Esmaeil Ebadi joined GUST in 2021. Prior to joining GUST he taught in the United States and the United Kingdom. His primary research interest is in the area of Open Economy Macroeconomics. In his recent paper, he investigates the effect of the stock market on the US consumers (Economics and Econometrics Research Institute Paper Series).
He loves the interaction between research and teaching. He believes that doing research keeps his curiosity fresh and that is what a teacher needs to boost students' curiosity and inspire them. His ultimate goal is providing some useful economic knowledge that helps students to build a reliable critical thinking framework.
Dr. Ebadi wakes up every morning to challenge "Elon Musk" who believes "college is basically for fun and to prove you can do your chores, but they're not for learning!" That is why He always revises and modifies his teaching materials to create new thoughts and more real world example. He focuses on students creativity to reintroduce joy into the learning process. Beside economics and statistics, he loves cooking, running on the beach, biking, gardening, and fishing. He wishes to make economics and statistics as delicious as his special dishes.