Achieving Excellence

Representing Greatness
Abdulaziz Malallah, a Visual Communication student studying at GUST, achieved a remarkable milestone by representing Kuwait at the prestigious Cannes Lions Roger Hatchuel Academy in 2023. His exceptional work caught the attention of the Roger Hatchuel Academy Jury panel, which consists of a diverse group of global experts hailing from renowned education institutions, the industry, and various creative fields. His submission was chosen among the best, granting him the opportunity to attend this exclusive learning experience.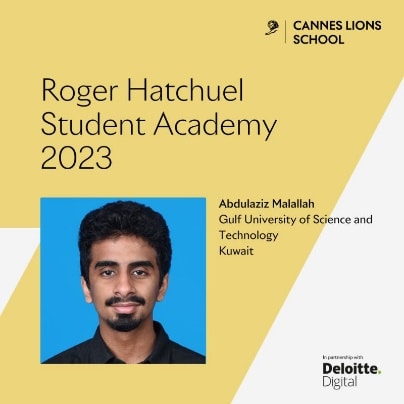 Roger Hatchuel Academy
The Roger Hatchuel Academy is specifically designed to nurture and guide talented students like Abdulaziz who are interested in pursuing a creative path in advertising. It serves as a launching pad for their future careers by providing unique and invaluable insights. Only 30 students from across the globe earned the privilege of being part of this year's classroom, where they were immersed in a wealth of knowledge directly from the world's most influential brands, creative geniuses, and leaders within the advertising industry.
Global Inspiration and Collaboration
Held concurrently with the Cannes Lions Festival from 19 to 23 June 2023 in the enchanting city of Cannes, France, the Roger Hatchuel Academy offered a once-in-a-lifetime opportunity for Abdulaziz to be exposed to cutting-edge ideas, innovative concepts, and groundbreaking campaigns. The experience provided him with a chance to connect and interact with industry professionals and like-minded individuals from different cultural backgrounds, fostering creativity and collaboration on a global scale.